A.S.Karthikbharathi,
MA. MPhil. B.Ed

– Founder & Director

A.S.Karthik Bharathi has an extensive testimony of serving to the purpose of education to children, young people and elders. From 1990 to 1999 with projects like Touch Stone Foundation, Uruthunai (Dr.Taj), Arivoli Iyakkam, Madurai Corporation E.V.S.S. Program, The American College's National Service Scheme; He served for the benefits of the people of Karumbalai, S.M.Nagar, P.T.Colony, Indra Nagar, Sambakudi, Thatthaneri, Melakkal, and around Madurai. Also, He found two forums namely "Bharatha Pynthamil Panbattu Kazhagam" and "Yuva Bharath".

Then he formed SEED with Ted and worked in the disadvantaged areas like Karumbalai, Sambakudi, and Thatthaneri up to 2006.
Alternatively, Karthik reestablished MADURAI SEED as a Non Profit organization under the Indian Trust Act from 2007, and the young people who have been brought up by him joined in his journey.

Karthik Bharathi grew up and has been living in Karumbalai to this day, knows the situation and problems that children and young people face inside and out. Despite hardship, He earned M.A, M.Phil (Tamil) and B.Ed (Education) and received a state and university award for the best volunteer in the National Service Scheme. He is a fellow of ASHA for education (Boston U.S) between 2003 and till date.

Apart from official tasks, he reflects on action plans for evening classes and special activities. He provides guidance and counseling to children and young people. He also builds up organizational and individual relationships for the benefit of children, young people, and Madurai Seed.

He has managed over the past twenty years to develop MADURAI SEED into a very popular and successful organization. Children and young people alike have learnt many essential things from him, most important of which perhaps the value of true friendship. Without his charisma, MADURAI SEED would never have become what it is today.


V.Elavarasi,
M.sc, B.Ed

- Managing Trustee & President

V.Elavarasi is a Master graduate in Physics and has a good blend of English too. She is very modest and dedicated. She is taking care of correspondences and online presence. Apart from admin tasks, she also teaches functional English classes for children and young people. She is one of the great reasons for Madurai Seed's centum results in 10th and 12th std each year. Her interests include conducting science activities, directing dramas, and bringing in innovative teaching methodologies. Her social, language, and teaching skills are indispensable strengths to the organization.
M. Mansurali,
MA

- Financial Trustee & Secretary & Treasurer

M. Mansur Ali also grew up in Karumbalai. Like Karthik, he knows about the situation here. He has earned degrees in Computer Science and Sociology. He has worked in Madurai Seed as a maths volunteer during his college and then accountant for some time. He also rendered his service as a Director of the organization. Now, He is the ideal person to control MADURAI SEED's tight budget and to deal with the bureaucratic aspects of the organization. He visits project activities often in a regular manner.
V.Mariammal,
MA,B.Ed

- Trustee & Board Member

V.Mariammal is a retired teacher, taught English and Social Science in T.S.U.M school where most of the Karumbalai children studies. She was inspired by Sri Aurobindo and Mother's principles. She very well knew the social and economic background of Karumbalai and has inspired so many students as a great mentor. She provides guidance in making decisions and building values. She visits projects during special occasions.
C.Arun Kumar,
M.A, B.Ed

- Program Coordinator

He is an English and teacher graduate. As a child, college student, volunteer, coordinator; he grew up with Madurai Seed. He is one of the reasons for MADURAI SEED's accomplishment in administration. He manages electronic, multimedia files and documentation of events. He delegates tasks to volunteers. His writing skill is one big support for Madurai Seed. His interests include teaching English, web research, and photography.
K. Muthupandi,
M.Com, B.Ed

- Accountant

He is a Commerce and teacher graduate. He also grew up with Madurai Seed. He works closely with the financial trustee and manages the books. He also teaches higher class children commerce and economics and takes competitive exam classes for the young people.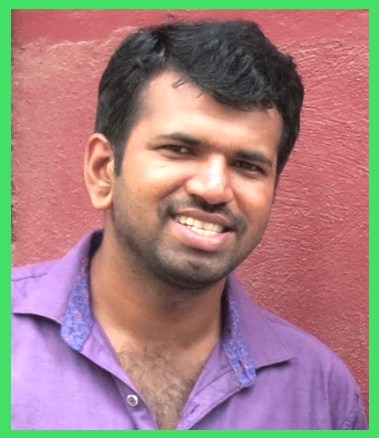 Volunteers
They are a team of thirty college students who have volunteered to work with the various groups of children for two to three hours every evening and to conduct, manage extracurricular activities during holidays. They are the backbone of Madurai Seed's project activities. Many of the volunteers are erstwhile Madurai Seed children from the same locale.
Dr. Taj Rajappa
Prof.Dr. R.Prabakar Vedhamanikkam
Dr.E. Annamalai ..
Mrs. Kristen Anderson

Mrs. Ann Anderson
Mr. G. Suresh Kumar
Dr.U Gowthaman
Mr.K.Ganeshkumar
Mr.S.Chandramohan
Mrs. Heena Nandhani
Mr. Biju
Mr. Murugesan & Mrs. Viji